Each review will have:
Book cover
Summary
Commentary of strengths
Connections: book trailers, similar themed-books, books by the same author or within the genre, and possible teaching ideas
Bibliographic citation in APA format
Book Review 1: "It's a Book," by Lane Smith
Summary: This is a picture book with few words. It is gorgeous, with bright colors that contrast for effect. Our main characters are a mouse, jackass, and monkey. At 26 pages, it tells the brief story of a monkey who is reading only to be interrupted by a jackass who knows all about the computer. When the jackass sees the monkey reading, he asks him what the book can do. Turns out, it does nothing technical whatsoever – because it's a book. The illustrations didn't really move me, but they were cute. The book itself, the hardback, is cute and feels good to the touch, as does the glossy papers – yes, I said that.
Strengths: This book is both fun and insightful. It puts into perspective how little kids read today, but how they'e constantly using computers, smart phones, tablets, etc. It suggests that kids do not understand a book or it's purpose. Yet, when you give them one and let them experience it, they'll love it, if not more than technology.
Here is a trailer for it:
Teaching: Even though this is a children's book, it would be fun to read to teens in order to start a discussion on technology and how it is integrated into their everyday lives.
Lane Smith is also the author of "Madam President," and an illustrator.
Book Review 2: "This is Not My Hat," by Jon Klassen
Summary: This book is about a little fish who steals a hat from a much larger fish, thinking he'll get away with it. Every time he thinks he's okay from getting caught, he's proved wrong. The language is very simple and the illustrations do a lot of the story telling, as well – that, in fact, was one of my favorite parts. While I really liked this book, the cover was just okay.
Commentary of strengths: I really enjoyed this book. It reminded me a lot of the students I've worked with. It addresses the fact that many young people today are not concerned with the consequences of negative behavior, but I love how this book illustrates to students that every time the fish thought something wrong, like not being seen, the illustrations following it show otherwise. The paper was sturdy, as well.
Here is a trailer for it:
Teaching ideas: There are some students who have social skills where they learn about interacting with others in a positive way. This book would be a great tool for reading and discussing our actions and their repercussions.
Book Review 3: "Martina the Beautiful Cockroach," by Carmen Agra Deedy
Summary: This is the short story of Martina Josefina Catalina Cucaracha who is a beautiful cockroach of age who is looking to marry. With her grandmother's wisdom, she tries the coffee test in which she "accidentally" spills coffee on her suitors to see how they will react. This story was super cute with beautiful illustrations that make the story come to life. Spoiler: Martina finds love by trying her grandma's advice when yet another suitor spills it on her!
Commentary of strengths: The illustrations bring the life of the cockroach believable, and just plain cute! Examples include a stamp for a picture on her wall, and a lamppost for a house. It's things like this that really draw me in, that tickle my imagination. I especially loved the use of her full name every time she was proposed to, as it made reading it aloud fun, as well as the occasional sprinkle of Spanish into the story, as seen here, "Meanwhile, Papa sent el perico, the parrot…" (Deedy). ESL (English as a Second Language) students would love that, too. What I really love is that it teaches children to be wary of who they engage with; to make wise decisions.
Connections: This is a link to her website where you can find more of her books. Other books include, but are not limited to:
Book Review 4: "Where the Wild Things Are," by Maurice Sendak

Summary: The video below really helped me understand this book. Written in 1963, it tells the story of a "wild" boy who is sent to his room without supper after being rude to his mother. From there, his room turns into another world, and Max, the main character, travels to a land full of wild things. They name him king and they play for a time before he gets lonely and comes home to a warm meal. The reason I didn't understand, or like, this book at first was because he was punished for his behavior by taking his supper away, only to get it in the end, after all. It played out in my mind as a boy who is unruly goes and becomes even more unruly, only to come home to see that his mother has relented. However, after watching the video, I was clearly able to see the theme of young children today who are a bit unruly, who learn that their actions aren't right by getting a taste of their own behavior. The hot meal at the end was related to forgiveness and understanding by a kind mother. Now that all of that has clicked in my brain, I can now say that I like the book.
Commentary of strengths: The illustrations are what make this book what it is today. The artwork looks like something that would have taken a very long time to complete; very meticulous. It also brings to life a world of monsters, which most young kids are rally either enthralled by, or partially afraid of; either way, it sparks their curiosity and brings these creatures to live in vivid imagination. The full page spread, of which there is no page number, of the monsters and max playing, are perhaps the highlight of the book, as it tells a story without words. At first, it seems that the mother is the antagonist, but later a sort of heroine. The monsters seem to remain secondary characters and flat, but Max evolves as a wild youth to a more, hopefully, appreciative boy. Also, the pages and book itself seem pretty sturdy, at least for the hardback.
Connections: I really like this quote by the author: "In plain terms, a child is a complicated creature who can drive you crazy," Sendak once said in an interview. "There's a cruelty to childhood, there's an anger. And I did not want to reduce Max to the trite image of the good little boy that you find in too many books," (Bibliography.com, 2018). Below is an animation of the book. Enjoy.
Book Review 5: "Mirror Mirror," by Marilyn Singer
Summary: This book retells the common fairytales such as Hansel and Gretel, Sleeping Beauty, The Three Bears, Beauty and the Beast, and Rumpelstiltskin. Unfortunately, I did not enjoy this book, however, it does have value by creating a poem to show the impact of words and their meanings, depending on their order. For example, each page is split in two. On one side there is a poem, that relays information, and on the other side of the page, its the same poem, only written in reverse. The idea is to read both in order to see how the meanings can change completely, all while using the exact same words. However, I prefer picture books with a story; beginning, middle, and end, and didn't find one here. Though, it doesn't seem that was the point.
Here is an example that I appreciated due to it's impact:
"The Doubtful Duckling"
"Someday
I'll turn into a swan.
No way
I'll stay
an ugly duckling,
stubby and gray.
Plain to see –
look at me.
A beauty I'll be."
and then rewritten:
"A beauty I'll be?
Look at me –
plain to see,
stubby and gray.
An ugly duckling
I'll stay.
No way
I'll turn into a swan
someday," (Singer).
Commentary of strengths: The above example does an excellent job of showing the power of words and their order when it comes to meaning. In this example, the first poem shows the duck hopeful of becoming beautiful, but in the second poem, the duck is completely doubtful of becoming beautiful. Though I like this aspect of the book, the book wasn't that enjoyable to read, however, the illustrations were vibrant and the pages were strong and glossy. There is also an image of the cover on the binding, apart from the dust jacket, which is nice if you had to take it off.
Connections: She has many books, which are diverse, too. Here is a link to some of her poetry. As a teacher, though the book seems ideal for a very young age, it would be a great exercise to read it as a class and discuss words and syntax.
Book Review 6: "The Three Pigs," by David Wiesner

Summary: This is a story that starts out very similar to "The Three Little Pigs," only to end up being very different. As the pigs slowly get their homes blown down, they all run to the last one when they suddenly discover that they can leave the story by exiting the photo. It's then as though they are on a white space within the book, but for them, it's not a book at all until they go and venture into other stories. By doing so, they completely change their fate, and meet many other characters.
Commentary of Strengths: This book does a very good job of depicting what is happening by the choice of images, as well as where the images are placed. It also gives off a very adventuresome, fun vibe, inviting children to keep reading. The theme seems to suggest that you can create your own story, rather than live out the one "written" for you. By trying something new and going somewhere they've never been, they're able to save themselves from the wolf, and have fun along the way. The book also uses thought bubbles to show when the pigs are speaking, and has a great variation of color. It is durable with glossy pages, but as with a lot of picture books, there are no page numbers. At the end, even the letters on the page start to move, as though they are falling, suggesting that everything can change if shook up enough.
Teaching Ideas: As a middle and high school teacher, I find that when it comes to teaching ideas, I always find ways to make a picture book valuable, even for older students. This book thinks outside of the box, and is a great tool for showing students how to get creative on projections and presentations.
Connections: If you were wondering about some of the visuals of this book, check out this video:
This is an audio recording of another book by David Wiesner, "Hurricane."
Book Review 7: "It's So Amazing!" by Robie H. Harris
Summary: This is a picture book designed to teach about the reproductive process, explaining and illustrating how eggs and sperm travel within the body to create a baby. It is full of illustrations and thought bubbles, illustrating the various types of couples, as well as cartoon-like illustrations of the male and female reproductive anatomy. One of the neatest aspects of this book is the multiple, time-progressing, illustrations and captions of a growing fetus into a newborn baby. Other topics include information about safe touches, and how to say, "no," when uncomfortable with people, as well as other topics such as diseases.
Strengths: This book is interesting, not only educating the younger people of their bodies and how life is created, but reminding adults of facts they've forgotten. The illustrations make it opaque, but visual enough to know what is what, giving visual context, as well, to support understanding. The ideal audiences is for all grades starting at 5th grade and up. This book uses a bird and a bee to narrate and keep the readers engaged. It also uses easy-to-understand language, and is ideal if an adult is near for younger audiences in order to help explain any feature that may lead to confusion.
Connections: Here is a link for the author's website: http://robieharris.com/ There you will find many more similar books, such as, "Who We Are!," and "It's Not the Stork!"
Book Review 8: "The Graveyard Book," by Neil Gaiman
There are many covers for this book.
Summary: This is a middle grade book that is enjoyable by middle school audiences, high school audiences, and even adults. It tells the story of a young boy named, "Nobody," who comes to live at a graveyard upon the murder of his family. Two ghosts raise him, but Nobody has a guardian who helps bring him food and clothing, and acts as a mentor. Nobody befriends a young girl who comes and visits the graveyard, until a short time later, she moves away. This book reads as one adventure after another, end even includes being captured by ghouls, and other fun adventures as he continues to grow until at last he attempts school outside of the graveyard, and finally has the opportunity to avenge his family's death, as well as protect his friend from his past who has returned.
Strengths: The theme, or one of them, is that you can't always expect people to see you as they should, or as you would want them to see you, as seen by his childhood friend's fear of who he is. I also really enjoyed the level of dedication Nobody's guardian gave him, years and years worth, when he didn't have to. He kept his word, and it is a great virtue for young audiences to see. Neil Gaiman's writing is very telling, but in-depth and rich in visual and unique description. The fantastical element of the graveyard, ghosts, ghouls, and fading are what make this book different and intriguing.
Connections: Here is a link for the author's website: http://www.neilgaiman.com/ There is even a graphic novel version of the book.
Here is a trailer of, "The Graveyard Book."
#thegraveyardbook
Book Review 9: "Dear Mr. Henshaw," by Beverly Cleary
Summary: This is the story of a young boy, Leigh Botts, who reads a story in elementary and really enjoys it. He enjoys it so much that he reads it again and again, and eventually writes the author per a class assignment. To his dismay, the author sends him a list of questions the he hopes to have in response, since he, the author, responded to his. Grudgingly, Leigh slowly answers his questions, sometimes only answering one or two at a time. In a sense, Leigh, who now finds himself most annoyed at the author, finds himself reflecting, and eventually using a diary to jot down his thoughts. When Leigh finally finishes the author's questions, readers have come to know the background of Leigh's life, of how his dad left to travel in a large truck each day with deliverable goods, and how someone at school keeps stealing parts of his lunch.
Strengths: The book was engaging due to several plot-threads, if there was a conflict with the lunch, then there was one with the answering of questions in a letter, or the large conflict of feeling abandoned by his father. Each of these elements kept the pace and storyline interesting. Mostly, though, it illustrates a child's desire for a father. It shows just how dependent children are on their parents, and how through various struggles and pain, such pain can be overcome. The language was easy to understand and carried the theme of trials can be overcome with time and persistence. An example of Leigh's thoughts towards his fathers visit later in the book can be seen here, "Maybe it was broccoli that brought Dad to Salinas, but he had come the rest of the way because he really wanted to see us. He had really missed us," (Cleary, 1983).
Connections: This is a link to her website with books and much more. As for teaching ideas, it would be neat to read this as a class and have the students write their favorite authors, asking questions, and even answering similar questions, and then keeping an in-class diary or journal to reflect in as Leigh does. So, if Leigh is reflecting, the class can take ten minutes to reflect.
Book Review 10: "The Legend of the Bluebonnet," by Tomie DePaola
Summary: This is the story of a Comanche tribe who have been experiencing a drought for a long time. They need rain and pray to the great sprits to show them how they've wronged, "Tell us what we have done to anger you. End this drought. Save your People," (DePaola, 1983). They discover that they've been greedy and that one of them must make a sacrifice. Most, however, do not want to, but a little girl decides that she must give up her doll, the one thing she has left from her family. In the middle of the night, she sacrifices her doll by fire, and the next day, there is a beautiful array of bluebonnets, and then rain.
Strengths: This book is short and easy to understand, with glossy pages and soft and colorful images. It captures a past way of life for Native Americans with the theme of great sacrifice reaps great rewards. It asks readers to think of their own lives, their selfishness, and to examine their hearts and willingness to do for others at their own cost. There isn't much, if any metaphor or simile, repetition or onomatopoeia. It tells a simple, moving story with simple language.
Connections: Here is a link for the author's website, where he illustrates and writes even more books: https://www.tomie.com/ There you can find videos and art. It would be fun to tell this story while tying in the author's artwork, and allowing students, preferably younger students, to draw their own item of sacrifice.
Book Review 11: "Rosa," by Nikki Giovanni
Summary: This is the story of Rosa Parks, giving a look into her life before and after taking a stand, (or not – if we're to be literal 🙂 against segregation of black and white people on a bus. It offers more information that most are told, starting out with her family and day prior to taking the bus ride home. When on the bus, the black section is full, but she sees that the white and black section is not full. So, she takes a seat among two other black people, until the bus driver orders her to move. She refuses, as it is the neutral section, as she believes giving up her seat would be wrong. The story goes on to show other women, inspired by Rosa, working to support not riding the bus in a protest against what had happened the day prior. Not long after, Dr. Martin Luther King Jr. gave a voice to their injustice, and started walking for change.
Strengths: This book is short and easy to understand, with glossy pages and soft and colorful images. Truly, the images are unique, blending a sort of realist (almost photograph style) with illustration. The book's greatest strength lies in streamlining the events prior to Rosa's stand, such as a horrible lynching, to Rosa standing with courage, to Dr. Martin Luther King Jr. who became their spokesperson.
Connections: Here is a link for the author's website, where he illustrates and writes even more books: https://www.tomie.com/ There you can find videos and art. It would be fun to tell this story while tying in the author's artwork, and allowing students, preferably younger students, to draw their own item of sacrifice.
Book Review 12: "How they Croaked," by Georgia Bragg
Summary: This is a unique book listing famous people, a little about their lives, and sadly, the awful ways they died. Such examples include Galileo, astronomer and physicist, died of lead poisoning, and Pocahantas, and Henry VIII. The book is full of interesting facts, plus information on the various things that killed them, including timelines, maps, and quotes. There are amazing illustrations that allude to the comedy and tragedy of their deaths, that also reflect the eeriness that is death.
Strengths: This book is very interesting, intriguing, and full of lively illustrations, and witty commentary. Such an example is seen here: "Cleopatra sent the Romans a message asking to be buried next to Mark Antony when she died. Gee, what did she mean by that?" (Bragg, pg. 22, 2011). The commentary in the last sentence was referring to the fact that she had planned to kill herself.
Connections: There is a similar book called, "How they Choked," also morbid, but likely interesting, nonetheless.
Here is a short look at what you'll be getting when you read, "How they Croaked."
Book Review 13: "Good Masters! Sweet Ladies!" by Laura Amy Schlitz
Summary: This is a book of many, one-person, plays featuring young characters living in medieval times. Each story tells of the hassles of daily living, offering insightful dialogue, funny bits, and intriguing moments. It offers prose and poetry, as well as footnotes that explain unfamiliar words or terms. To help bring to life a time far past, it includes soft, matted images on glossy pages, each full of detail.
Strengths: This book reminds me, for some strange reason, of "The Canterbury Tales," by Geoffrey Chaucer in the stylistic, as well as personal, writing. These stories challenge students to reflect on their own day-to-day lives from the stance of relationships, money, and living environments. It is a great way to teach prose and poetry. It is also a great way to build vocabulary, as well as give a sense of the language used in the past.
Connections: Here is a Q and A from Publishers Weekly, and here is a classroom video of a student acting out one of the stories, a great idea for bringing context to the words and events of each story:
Book Review 14: "Surf's Up!" by Kwame Alexander
Summary: This is a book about two frogs, one who likes to read, and one who doesn't. One frog really wants to go surfing, and tells his friend to come on, but the friend is reading. In response to this, the frog who wants to go surfing says, "That's boring!" But the frog replies that it isn't, and tells him a bit of the story as they go surfing, and then just a bit more, and then, when he finishes the book, he goes surfing, but now, the other frog wants to know how it ends, and stars reading.
Strengths: This book shows that we can influence others with our actions and just a little bit of passion. This text is easy to read, with large, colorful font, and colorful, animated pictures. This book uses  lot of imagery, showing two pictures in one, such as their story, as well as glimpses of the story the first frog is reading. It also uses a lot of expressive expressions. It is great to use for exciting students about the value and appeal of reading, and would be ideal for audiences of Kindergarteners and 1st graders.
Connections: Here is a audio version of the book: https://www.youtube.com/watch?v=H5qWTCOL7wE as well as the author's website listing books for various ages: https://kwamealexander.com/
Book Review 15: "Sam the most scaredy-cat kid in the world," by Mo Willems
Summary: This is a book about a young boy named Sam who is afraid of most everything. There is only one thing that he is not afraid of; a monster. When this monster introduces him another monster, he is afraid, but that same monster has a friend, who happens to be afraid of Sam's monster friend. So, both monster's leave. Together, Sam and Kerry, the girl, realize that they have a lot in common, mostly that of being afraid, until they also realize that they have some differences, too. They decide, unlike the monsters, to stay and become friends, and in the end, the monsters all come back, and they are friends.
Strengths: This book has a strong theme: it shows that we can find friends even when we're limited by such things as fear, etc. It also shows us that meeting and befriending new people, and giving them a chance, even though they're different than us, can lead to greater things, and even improve us as people. The images are large, and soft in color and uses onomatopoeia. The text is small, and some pages even have multiple images to attract interest and give context to the text.
Connections: Here is the link for the audio version of the book: https://www.youtube.com/watch?v=6PaEyPvl8rM Mo Williams has many more books, which can be found here, such as, "Diva and Flea," a chapter book: http://mowillemsstuff.blogspot.com/search/label/books. This book would be god for teaching social skills.
Book Review 16: "Baloney Henry P." by Jon Scieszka
Summary: This is a very visual book with short, large words. It uses fake words at times, derived from several other languages, such as verbs and nouns, to replace regular words. It also has large, vibrant images and tells the story of a young alien-boy who is late to school. When his teacher asks him why, he tells her an elaborate tall-tale – from accidentally missing the school, to nearly being eaten, to becoming another species king until at last arriving at school where, ironically, he is not able to write down his tall-tale.
Strengths: This book's vibrant, glossy images pull the reader in, and unlike the usual large amount of white space, there is a lot of black space where white space otherwise would be. The images also encourage and tickle creativity and the unique use of made-up words does a good job and peaking curiosity, as well as teaching context based off of the previous words and the images. The theme of this book is that of trying to make progress only to keep being hindered. The book uses rhyme a few times, and large, font, as well as a decoding page at the back.
Connections: Jon has many more books that you can find here: http://www.jsworldwide.com/yeah_he_wrote_em.html on his website. Another, more widely known is, "The True Story of The 3 Little Pigs!"
Here is an audio version of, "Baloney:"
Book Review 17: "In My Family/En Mi Familia," by Carmen Lomas Garza.
Summary: This is a book of paintings and Spanish/English text, including a Q and A from children to the author. It features text in small paragraphs in both in English and Spanish. It reflects on dancing and the past, teaching both the love of family, as well as giving factual information about the culture and their traditions, including a wedding, dancing, and the food they eat.
Strengths: The paintings are vivid, showing not only detail in the art, but in the lives depicted, such as sewing a dress, and getting ready for a large wedding and all that it entails. There are full-page illustrations detailing every aspect you might see, from wall art, to the family pet, and the actions of others, as well as details outside the windows. It allows for Mexican-American children the opportunity to find themselves in fiction, as well as in their roots. Not only does it relate to them, but it gives insight to non-Mexican-American children. I love the fact that it does offer more than one language, accommodating for both speakers, as well as giving insight and the opportunity to explore and learn foreign words.
Connections: This would be an awesome book to use for ESL students and English students, especially with all of it's visuals: from book paintings to the movie. Here is a link to her website: http://carmenlomasgarza.com/publications/childrens-books/ They made a movie about it; you can find it here in full:
Book Review 18: "Snakes," by Nic Bishop
Summary: Nic Bishop is a photographer who captures wildlife and then writes about them in easy-to-understand books. Snakes is an example of his work. With vibrant, clear and stunning images, Bishop educates students on these predators, describing their habitats, the many types, and those from the smallest to longest, as well as much more fascinating facts. An example includes, "Some snakes have more than 400 ribs," (Bishop, pg. 8).
Strengths: This book offers high-resolution color images of snakes, all varying in size and detail, and captures them in such a way that the public does not always get to see, especially up-close and personal. The greatest strength, besides that, is that it not only gives detail, but relates it to the readers, as seen here, "Some snakes have more than 400 ribs, you only have 24," (Bishop, pg. 8). It is interesting and personal.
Connections: Here is a link to his very neat, and very visual website: https://www.nicbishop.com/ This book, and many more like this, would be great for science classes, as well as English classes where students wrote about factual information and had to cite their source.
Book Review 19: "Diary of a Wimpy kid, The Ugly Truth," by Jeff Kinney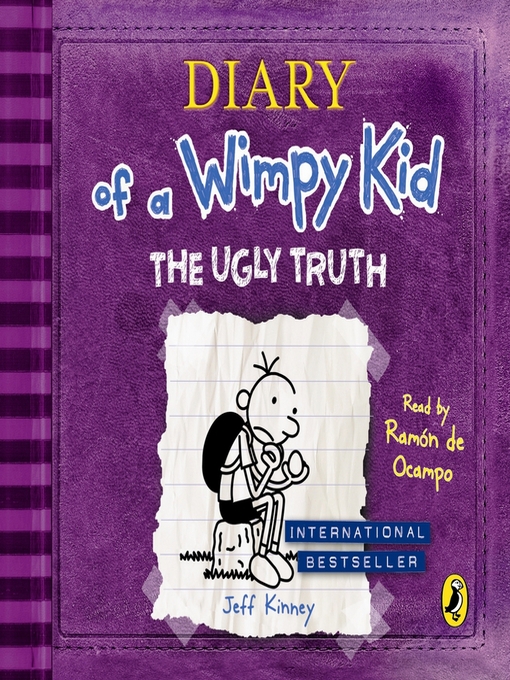 Summary: This is one of many books, 13 in total, in the "Diary of a Wimpy Kid," series. This book features Greg, who is on the outs with Rowley, his best friend, and showcases problems with peaches, age, puberty – to family sit downs discussing the nasty floor in the bathroom, to being more responsible from taking out the trash to waking up on his own – and, life as a young boy, in general. Though Greg fights these things with excuses and his own reasoning as to why some of these things shouldn't change as he grows, he continues to get into mischief.
Strengths: This book offers a diary-like feel, from lines on the page to first-person writing, to small doodle illustrations. It's real strength is it's ability to capture the mindset of a young child and his thoughts and perceptions on life at the moment. It really does read like a diary, from experiences to personal thoughts, both private and exposing, and often funny. It reminds me just how mischievous young kids can be.
Connections: Here is a link to his interactive website: https://wimpykid.com/ And here is a super cute review from one of Kinney's readers:
Book Review 20: "We Are the Ship," by Kadir Nelson.

Summary: This book reflects on negro boys who also love baseball, and how popular baseball was back in the day. It talks about the horrible names they were called, and how they were injured on the field. It also reflects how protective gear came about due to a negro who was often injured on the field by whites. In fact, it recalls how negro's were banned from playing baseball in secret. As a result they created their own professional leagues. The story continues to show the way in which they played and how they signaled to one another and eventually grew and grew to large stature with the small means they had available to them.
Strengths: It uses historical information and dates, reflecting on the sport and the "negro's," as the narrator states, in their attempt to play in the leagues despite discrimination. It's greatest strength is the theme of: determination pays off in the long run, no pun intended. The paintings are realistic and beautiful in detail and texture and can only be engaging and inspiring to all students, especially boy students, both black, white, and of all races.
Connections: It would be a great addition to civil rights readings. Here is a great audio recording of the book with a deep, enthusiastic voice:
Book Review 21: "Rules," by Cynthia Lord.

Summary: A young girl, Catherine, helps her younger brother, David, who has autism, cope in a world that he doesn't quite understand. Upon moving, Catherine meets new neighbors who she hopes to be friends with. Unfortunately, she is too worried about her brother embarrassing her and struggles to live carelessly with her own worries of being normal. Time and time again, she struggles as David embarrasses her by opening doors in strangers houses, or putting a toy duck in a fish tank.
Strengths: It is written in first-person and captures the challenges a young girl faces. It also meets the needs of children who are not yet teenagers, but who are past easy-reader books. This book allows for self-identification for children with siblings with special needs, as well as empathy for those who come in contact with special children, or those with special siblings or children. It does well to capture deep topics that the younger generation of children face, such as friends, family, and acceptance.
Connections: Here is a link for teachers who want to read this book in their class: http://www.cynthialord.com/for-teachers.html She has many more books, both for young and younger readers that you can find here: http://www.cynthialord.com/books.html
Book Review 22: "The Invention of Hugo Cabret," by Brian Selznick.

Summary: This book is about a boy who becomes a thief and clock keeper, after coming to live with his uncle who is pretty absent in his life, and who eventually leaves Hugo on his own for good. One day, he is caught stealing parts from a toy-maker while trying to make his own invention that is important to him since his dad had worked on it before his death, hoping it holds a secret message, when he finally befriends a girl named Isabelle. Together, they realize his potential of invention.
Strengths: There are many illustrations, some full-page, as well as stylistic elements in the book that normal books don't incorporate, such as borders. Not only does Hugo create and design as he invents, but this book alludes to the fact that people can be fixed, just as broken items can be, too. It also allows images to give context and story-telling, showing the importance of images in text.
Connections: author website: http://www.theinventionofhugocabret.com/about_brian_bio.htm There is also a movie, called Hugo.
Book Review 23: "You Nest with Me," by Melissa Sweet.

Summary: From owls, birds, to foxes, and even eagles, this book illustrates how each animal has it's own natural place to rest and nest, but continually elucidates the fact that the young girl rests at home with, "me." It offers comfort to the young one, knowing that he/she belongs.
Strengths: This book offers full-page spreads of illustrations showing where each animal rests/nests, as well as soft, semi-glossy pages with earth-toned colors. It serves as a comforting book, as well as an educational book. It is easy to understand, and has more imagery than text. It is great for audiences of PreK, Kindergarten, and 1st graders.
Connections: author website: http://melissasweet.net/ where you can find more books.
Book Review 24: "Comics Squad," by Jeniffer L. Holm
Summary: This is a mega comic book, offering many stories all dealing with the topic of lunch. From the nasty food served at lunch, to Snoopy taking over the cafeteria, and even falling for your crush and getting food poisoning, this book is full of various fun, and sometimes serious, situations all pertaining to lunch and it's many peculiarities.
Strengths: This book is only one out of many in a similar series. It offers not just one, but many comic stories all surrounding a single theme with multiple, popular comics that very in length and deal with youngsters and the type of issues/situations they come in contact with day-to-day.
Connections: Visit the author's website to find more books at: http://www.jenniferholm.com/ She also has links for educators as well as students on book reports.
Book Review 25: "Skulduggery Pleasant," by Derek Landry.
Summary: This book is about an author who died who had two brothers. One brother had two spoiled brats and a wife that the author didn't like. Gordon, the author, had another brother that had a little girl, 12, and when he died, the will gave everything in his estate to the little girl when she turned 18. He gave a broach to his other brother. To Stephanie, he gave her parents a villa in France. Attending the will was Mr. Pleasant, that was a good friend of the author. As it turns out, he was a magical skeleton detective who believed that the uncle was murdered. Stephanie spends the night in an old house by herself on accident, and meets the detective, Skulduggery, and learns who he is and all about magic – the good and the bad, and helps him save the world from a mad sorceress. There's humor, and action, and secrecy, as they go about solving her uncles murder. In the end, she learns that she herself has the ability for magic.
Strengths: This book is ideal for fifth and sixth grade students, as it has a lot of text. Also, it is one of few books that combines mystery with magic and fantasy.
Connections: Author website: http://www.skulduggerypleasant.co.uk/about-derek/ Here is an author interview:
Book Review 26: "Bridge to Terabithia," by Katherine Paterson.
Summary: Jess, a young boy, who could use an escape, meets a new girl, Leslie Burke, who he soon befriends after she outruns him at school. Together, he and Leslie escape the harshness of reality when they create a fictional land called, Terabithia – an escape just across the creek where they become King and Queen. Unfortunately, Leslie goes alone one day only to tragically die. Jess must come to face his grief, and eventually builds a bridge across the creek.
Strengths: This book explores the harsh reality of life, one being death, which is usually presented in young adult books. Not only that, it explores the themes of adolescence and the need for escape, not only from death, but from financial and family hardships; with that, it also shows readers indirectly how to cope, or rather, how some cope with tragedy.
Connections: There is also a movie made from the book. Here is a heartfelt review of both the movie and the book:
Book Review 27: " by Sharon Draper.
Summary: This is an adventure series featuring four friends who realize that the Underground Railroad happens to be in their town. When Mr. Greene gives them a map, they decide to check it out. Together, they learn about the secret hiding place that helped slaves to escape, and learn about the struggle and fear that slaves faced when trying to escape to freedom.
Strengths: There is page-length text and on some pages, there is a full-page with illustration, giving life to the story. It is a short book and easy-to-read for children moving into chapter books. I love how it makes the past interesting and relevant, and how it is also told in the format of an adventure.
Connections: Author website: http://sharondraper.com/books.asp
Book Review 28: "Princess Black," by Shannon Hale.
Summary: It reads like a Mary Popkins type of book in the beginning, only it seems that Princess Magnolia's secret is about to be exposed, as determined by the duchess, Wigtower. When Princess Magnolia visits Monster Land, she finds a boy in need of help from a big blue monster who is about to eat his goats.
Strengths: The illustrations are gorgeous, flamboyant, and the pages are very stylish; perfect for the young princess. It reads like a Mary Popkins type of book in the beginning, only it seems that Princess Magnolia's secret is about to be exposed, as determined by the duchess, Wigtower. When Princess Magnolia visits Monster Land, she finds a boy in need of help from a big blue monster who is about to eat his goats.
Connections: Here is a link to her blog where you can find more books, as well as her main website: http://www.squeetus.com/
Book Review 29: " by Christopher Paul Curtis.
Summary: This short book follows the journey of Steven, a young boy who is given a quadrillion dollar bill by his blind neighbor, Mr. Chickee. The bill is odd, with a funny face on it, and, since Steven is the president of the Flint Future Detectives Club, he inquires about it only to find that it is indeed very valuable. Upon refusing to surrender it, he and is friend are soon chased on a wild adventure.
Strengths: It turns out that it is the face of a legendary musician, James Brown, on the bill and ties in music and a bit of history as the author reflects on his past childhood. It uses easy-to-understand language with clever illustrations at the beginning of the book and at the beginning of each chapter. It is short and brief, and a great tool for transitioning from early-readers to chapter books with mystery.
Connections: Here is a link to more books by the author: https://www.nobodybutcurtis.com/books Here is an author interview:
Book Review 30: "Hitler Youth," by Susan Bartoletti.
Summary: This book is about the youth turned used as weapons against the jews; strong and deadly. The primary reason in the beginning was so that they could have the future that Hitler was promising, which was that of a prosperous future. This book uses interviews from those who were once part of the Hitler Youth. This quote captures the book perfectly, "I begin with the young. We older ones are used up… But my magnificent youngsters! Look at these men and boys! With them, I can create a new world," (Adolf Hitler, Nuremberg, 1933).
Strengths: It shows how youth can be persuaded to do things that can forever change their lives, sometimes for the worse, without them fully understanding what they're getting into. It uses a lot of imagery intended to attract both attention and understanding of context, and uses factual information garnered from research and personal interviews from people who lived during that time and who were a part of Hitler's Youth. The language is also understandable, using modern, engaging language, telling the various stories of those who experienced Hitler's agenda, making possibly empathy and insight to the minds of the past.
Connections: Here is the author's website: http://www.scbartoletti.com/?page_id=2 along with a vert interesting interview by the author: